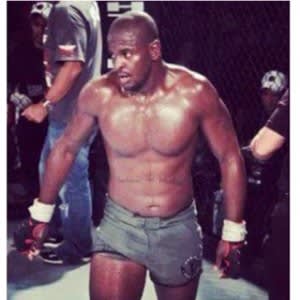 Sam McCoy
Sam is a Brazilian Jiujitsu Black Belt and retired Professional MMA fighter.
He taught Brazilian Jiu-Jitsu and defensive tactics for Palm Sports LLC, under the patronage of His Highness General Sheikh Mohamed bin Zayed Al Nahyan, in The United Arab Emirates, more specifically Abu Dhabi/ Dubai for over 2 years.
While in Abu Dhabi, Sam taught Brazilian Jiu-Jitsu and defensive tactics to their military and children respectively from September 2013 to October 2015.
His duties in Abu Dhabi included but were not limited to teaching military personnel and certain members of the Royal family of Al-Ain, Abu Dhabi, hand-to-hand combat and Brazilian Jiu-Jitsu.

Sam authored and published two books while overseas, "Jiu-Jitsu For The Executive Gentleman (A Do It Yourself Guide to Training Brazilian Jiu-Jitsu)," and "Brazilian Jiu-Jitsu Abroad (A Brief Guide to Travel and Training in Brazil, the U.S., and the U.A.E)."
Before leaving for Abu Dhabi, Sam was a Brazilian Jiu-Jitsu coach at American Top Team Deerfield Beach as well as assisted in preparing many American Top Team UFC veterans with their training camps.


Accolades:

Bellator MMA Veteran
2016 SJJIF Masters 1 Black Belt World Champion
World Professional BJJ Cup Abu Dhabi Competitor 2014
World Professional BJJ Cup Abu Dhabi Competitor 2015
World Professional BJJ Cup Abu Dhabi USA Trials Qualifier 2010
World Professional BJJ Cup Abu Dhabi Competitor 2010
10 x NAGA Champion
1 x NAGA Absolute Champion
Silver Medal 2008 World BJJ Championships
Bronze Medal 2008 Pan American Championships
Warrior's Collide 3 Super-Fight Champion
Florida Grappling League Advanced Champion
Multiple Venezuelan BJJ Champion
And various other BJJ Titles